Are you looking for essential oil diffuser recipes for energy? The right essential oils can help you feel more awake, refreshed and energetic. I researched which essential oils have clinical evidence to support claims that they increase energy, and come up with four fatigue fighting recipes you can use in your essential oil diffuser!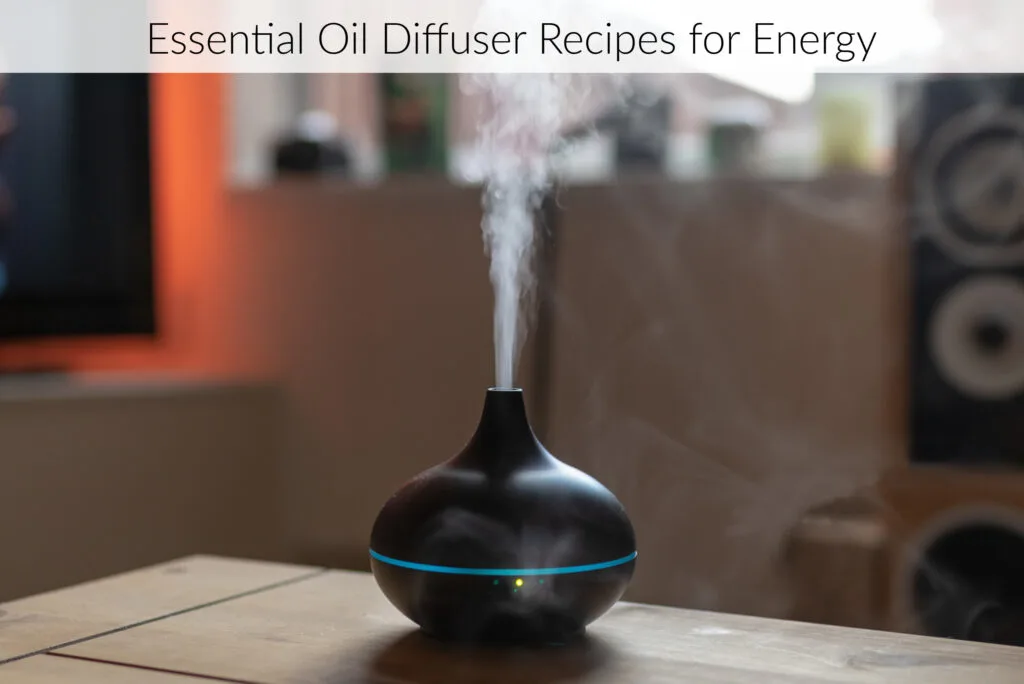 If you don't already have an essential oil diffuser, there are some good, affordable ones you can buy one on Amazon. Diffusers usually require a small amount of distilled water to be added along with your essential oils.
Most diffusers cover around 250 feet, so if you're trying to diffuse several rooms you will most likely need two diffusers.
All of the recipes in this post are for use with diffusers. If you want to apply any of the essential oils to your skin you will need to first mix them with a carrier oil. You should never apply essential oils directly to the skin since they are highly concentrated and could cause irritation.
This post is all about essential oil diffuser recipes for energy
Essential Oil Diffuser Recipes for Energy
---
Disclosure: This post may contain affiliate links meaning I get a commission if you make a purchase through my links (at no extra cost to you). For more information please read my disclosure.
Peppermint Essential Oil Recipe for Energy
During my research I found a number of sources demonstrating how peppermint oil increases energy levels. It was this research that lead me to make my mint essential oil recipe for energy. I have listed the benefits of peppermint for improving energy levels along with links to the original research.
Benefits of Peppermint Oil for Energy
My peppermint oil recipe for energy was inspired by a small 2013 study to test whether the fragrance from essential oils could help to alleviate the fatigue caused by exercise. The results showed that inhaling peppermint oil after exercise significantly reduced fatigue.
Interestingly when the peppermint oil was mixed together with other essential oils the results were even better! My recipe is made up from some of the other oils used in that study. I have tested it out myself and found it helps to give me an extra boost in the afternoon when I'm normally tired. You can read the full study here.
I use Gya Labs to source my essential oils as I've found they make the best essential oils for essential oil blends. This recipe is excellent if you have low energy or adrenal fatigue. It includes 3 drops peppermint along with four other different oils.
---
Sweet Orange & Spearmint Recipe for Energy
Sweet Orange essential oil blends very well with spearmint essential oil. The combined scent helps create wonderful positive energy in a room. I've also found that mixing minty oils with sweet orange creates a lovely refreshing scent.
Benefits of Sweet Orange & Spearmint for Energy
Sweet Orange and Spearmint both improve lung function. Source
Sweet Orange and Spearmint could improve athletic performance. Source
Sweet Orange essential oil has many other benefits including reducing stress and improving your mood. It has a fresh, uplifting citrusy aroma which reminds me of summer or warm weather. It blends well with other citrus oils or cedarwood, juniper, clove, frankincense, and sandalwood.
In my essential oil diffuser recipe for energy I have mixed Sweet Orange essential oil with Spearmint which is known for reducing stress and improving memory. This is a great blend for creating an energizing aroma in a room. If you also need help with clear breathing you could also add 3 drops eucalyptus oil to this recipe.
---
Spearmint & Rosemary Recipe for Energy
Spearmint is an oil that blends well with other essential oils. Another recipe which works well for promoting energy is spearmint and rosemary. Rosemary is an excellent oil for improving mood states and has been shown to positively effect brain wave activity and the autonomic nervous system.
Benefits of Spearmint & Rosemary for Energy
Rosemary is one of my favourite essential oils for boosting energy. I love mixing it with spearmint but sometimes use it alone. It is known to improve brain function, ease stress, reduce fatigue and help you feel more mentally refreshed. Studies have shown the increase in alertness triggered by Rosemary oil corresponds to changes in brain waves and increases in heart rate, breathing and blood pressure.
Using aromatherapy with rosemary essential oil is also known to help boost the immune system and have other health benefits such as increasing circulation, stimulating hair growth and reducing joint inflammation.
---
Lemon Essential Oil Recipe for Energy
Traditionally the scents of citrus fruits have been thought to be the most uplifting. Lemon essential oil is a popular oil to help fight exhaustion and depression, as well as to clear the skin, kill harmful viruses and bacteria, and reduce. inflammation.
Benefits of Lemon Essential Oil for Energy
Lemon Essential Oil creates a positive mood. Source
More research needs to be done into the effects of lemon essential oil on energy levels however lemon is regularly recommended by advocates of aromatherapy to boost energy, mood, creativity, focus and motivation.
I have found citrus oils very uplifting and effective at increasing my energy levels. My Lemon recipe contains a blend of citrus oils includes 3 drops orange, 3 drops grapefruit, 3 drops lemon, 2 drops lime, 2 drops mandarin, and 2 drops bergamot.
Grapefruit is a great essential oil to reduce stress, stimulate circulation, increase energy, and enhance mood. The drops of grapefruit oil give this blend a more orange scent.
---
Other Essential Oils Known to Increase Energy
The following oils can be added to any of the recipes mentioned above to alter the scent or gain additional health benefits.
Black Pepper
Black pepper essential oil gives your aromatherapy blend a spicy fragrance. Black pepper essential oil helps relieve sinus and nasal congestion and improve neurological health.
Tea Tree
Tea tree essential oil when added to a diffuser helps to repell insects and banish odours. Tea Tree promotes feelings of wellness and improves mental clarity.
Pine Essential Oil
Pine Essential Oil gives your essential oil blend a woody scent. White fir has energizing effects and helps to prevent an afternoon slump. Adding this essential oil to your own blend is a great way to get an energy boost.
---
Recommended Essential Oil Diffusers
The two essential oil diffusers I recommend are the Maxcio Alexa WiFi Essential Oil Diffuser and the VicTsing Fragrance Essential Oil Diffuser
Maxcio Alexa WiFi Essential Oil Diffuser
The reason I love this particular essential oil diffuser is that it has a timer function. If you want to either fall asleep or wake up to the scent of an essential oil, you can set the timer so this will automatically turn on or off. I personally use it to help wake me up in the morning. I set it to come on an hour before I plan to get up to use aromatherapy as a way of gently waking me up.
Aromatherapy effects the limbic system which is the part of the brain involved in our behavioural and emotional responses. Using essential oils throughout the day can help you re-train your brain and control your emotions. Having a diffuser which has a timer can help you establish healthy morning and night-time rituals using essential oils.
If you are using essential oil recipes for energy this diffuser can be especially helpful as you can set it to come on at times during the day when you know you regularly have low energy.
Maxcio Alexa WiFi Essential Oil Diffuser for...
💐Voice & Maxcio APP Control - Alexa Echo & Google Home compatible for voice control the aroma diffuser...
💐7 LED Lights & Adjustable Mist - Maxcio Essential oil diffuser features with 7 soothing light colors,...
💐Timer & Schedule - 400ML water capacity for using up to 6-12Hrs. Schedule the smart aromatherapy...
💐Family Share - Maxcio aroma oil diffuser features a sharing function among your families or friends...
💐BPA Free & Waterless Auto-Off - Completely toxic-free and BPA free, ensure this scented oil diffuser...
VicTsing Fragrance Essential Oil Diffuser
My second recommendation is the VicTsing Fragrance Essential Oil Diffuser. I love this diffuser because it's made from durable materials and can last up to 3 months without needing care. It also includes high-quality features and is easy to use. Simply add your essential oil diffuser blends and take a deep breath.
This is a great diffuser for your favorite essential oils and creating a pleasant home smell. It's also a good choice it you want something for a holistic healing treatment as it has an adjustable mist mode and LED lights.
This post was all about essential oil diffuser recipes for energy