Violet essential oil benefits have been known since ancient times across many different cultures. If you are looking for an oil with a sweet leafy fragrance that provides amazing therapeutic properties, then Violet may be for you! Discover all the uses and benefits of this amazing oil!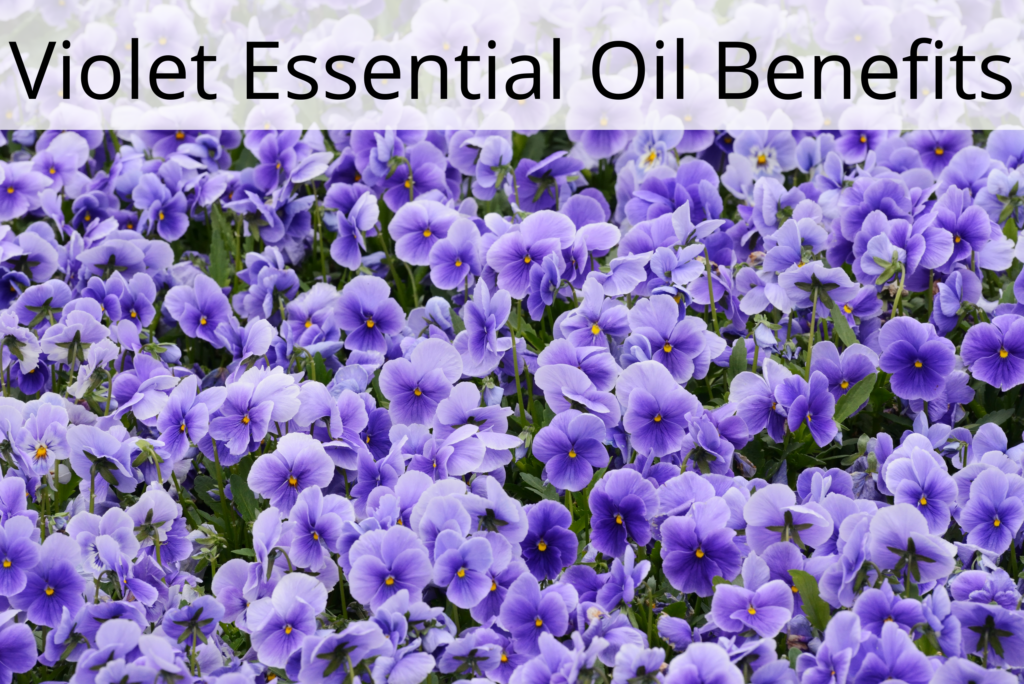 Sweet Violet, also known as Viola odorata Linn, is an evergreen perennial herb native to Europe and Asia, but has also been introduced to North America and Australasia. When making violet oil both the leaves and the flowers are used.
Violet essential oil was popular among the Ancient Greeks and Ancient Egyptians as a remedy against headaches and dizzy spells. The oil was also used as a natural remedy in Europe to soothe respiratory congestions, coughs and sore throats.
Violet leaf oil has a feminine fragrance with a floral note. It has many possible uses both in aromatherapy products and in topical use by mixing it in a carrier oil and applying it to the skin.
This post is all about violet essential oil benefits
Violet Essential Oil Benefits
---
Disclosure: This post may contain affiliate links meaning I get a commission if you make a purchase through my links (at no extra cost to you). For more information please read my disclosure.
Aromatherapy Violet Essential Oil for Diffuser,...
【 Package Include 】- 1 Bottle 10ml-0.33oz 100% Pure Aromatherapy Violet Essential Oil for Diffuser.
[ Aroma ] - Pure Violet essential oils' pleasant aroma is strong, sweet, leafy and with a tender floral...
[ Origin ] - Violet essential oil is extract obtained from Viola odorata L.
【 Premium Quality 】- Aphrosmile Aromatherapy Violet Essential Oil aroma smell very pure than some...
[ Perfect Gift ] - Aphrosmile Essential oils can be used as special gifts on Christmas, birthday,...
Violet Essential Oil Helps Respiratory Problems
Studies have proven that Violet essential oil can be beneficial to patients with respiratory problems. One study showed that violet oil in syrup significantly reduced intermittent asthma caused by coughs in children aged between 2-12 years old. You can view the full study here.
It may be Violet's antiseptic properties that help to relieve the symptoms of viruses. In Ayurvedic and Unani medicine, Violet essential oil is a traditional remedy for whooping cough, the common cold, asthma, fever, sore throats, hoarseness, tonsillitis and respiratory congestions.
To get respiratory relief, you can add a few drops of violet oil to your diffuser or into a bowl of hot water and then inhale the pleasant aroma.
Violet Essential Oil Promotes Healthy Skin
Violet is a very cooling oil, and when used topically can be helpful in relieving a number of skin conditions linked to inflammation. It can be beneficial to both dry skin and oily skin as it has moisturizing, antiseptic and anti-inflammatory properties.
If you have dry skin conditions such as eczema or psoriasis, violet is an excellent moisturizer and emollient that soothes redness and itching. If you have oily skin or acne, violet can help to tighten the pores and rebalance the skin. Since violet is a natural source of salicylic acid is helps to gently exfoliate the skin.
Violet is a traditional remedy for common skin conditions and can be used in massage oil or added to your bath water. There is also evidence to suggest violet essential oil may also help to diminish the appearance of thread veins.
To use the oil on your skin first dilute it with a carrier oil (such as almond, coconut or jojoba oil) in a 1:1 ratio and apply it to the affected area. Alternatively, you can add 2-3 drops of violet oil into your skincare products
Violet Essential Oil Can be Used for Pain Relief
Violet essential oil can be used for pain relief. It was in fact a traditional remedy used in Ancient Greece to treat the pain from headaches and migraines and to curb dizzy spells.
Since violet oil has anti-inflammatory properties it can treat a variety of problems including stiff and sore joints, muscle cramps, and pain from rheumatism, arthritis and gout.
Since violet is able to stimulate circulation in the blood vessels around the muscles, it can also help to reduce muscle spasms caused by poor circulation and lack of oxygen.
To get pain relief from sore joints or muscles, add a few drops of violet essential oil to your bath water. Alternatively, you can create a massage oil by mixing 4 drops of violet oil and 3 drops of lavender oil with 50g of sweet almond carrier oil and gently massage the affected areas.
Violet Essential Oil Helps to Treat Insomnia
If you suffer from insomnia, Violet essential oil can help you to get some restful sleep. Violet is a very calming and relaxing oil which can help you to unwind and relieve any stress or tension. It's a natural remedy for people having trouble sleeping who don't want to use prescribed sleeping pills.
To use violet oil to induce sleep, you can add violet oil into your diffuser at night, or alternatively, into your evening bath water.
Violet Essential Oil Can Treat Sexual Dysfunction
Violet essential oil can be used to treat sexual dysfunction especially it the root cause is stress. It helps to relax the body and reduce anxiety levels which can enhance libido.
Violet essential oil is often mixed with rose essential oil and added to diffusers to cure sexual problems. To use the oil to enhance libido, add 6 drops into your diffuser and put it on your bedside table.
Precautions
You should be careful with essential oil safety as they are very potent and could cause skin irritation if they are not diluted or used properly. Pregnant women should consult a Doctor before using violet oil, since there is not enough reliable information about its safety in these cases. The same precaution should be taken when used in children.
What is Violet Leaf Absolute?
Violet leaf absolute is another name for violet essential oil.
Violet leaf absolute is a highly aromatic oil. It is extracted in a complex manner from violet leaves and requires using chemical solvents that cannot be used at home. The scent has been described as heady, earthy, woody, floral and sweet.
The plant has purple flowers and a sweet fragrance. It is commonly mixed together with sweet almond oil.