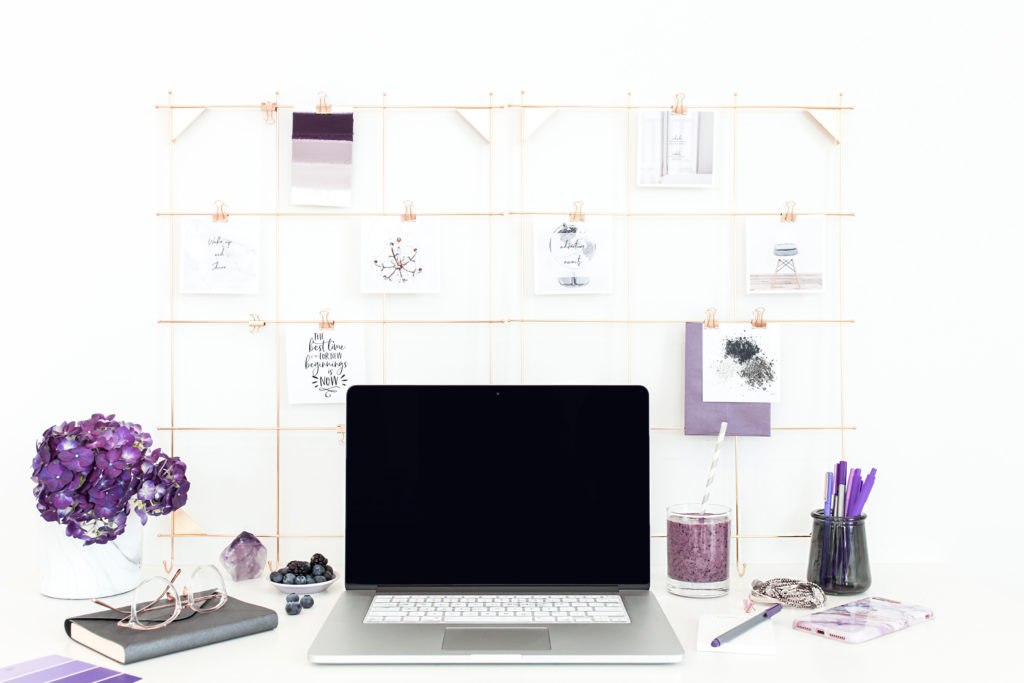 Do you want to start a blog and earn money online? I will show you how to create a WordPress blog for as little as £3.19 a month. My tutorial below will not only help you to set your blog up but also create a website that looks professional and be profitable in the longterm.
Disclosure: I am an affiliate for Bluehost, and will receive a commission if you sign up through my referral link on this page. This is at no additional cost to you, and you will get a great price and free domain name !
Click here to get started on WordPress
I want your blog to be successful, so before getting started there are a few other things to consider. If you type into Google "how to start a blog" thousands of articles will come up. The vast majority of them only go through the first steps such as registering a domain name and choosing a host provider, but it's not as simple as that. If you want to make money from your blog there are many other things you need to think about from the start such as your topic, who your audience is and your monetisation strategy. You also need to create a blog that looks sleek and professional. My tips below will cover everything you need to get you set up.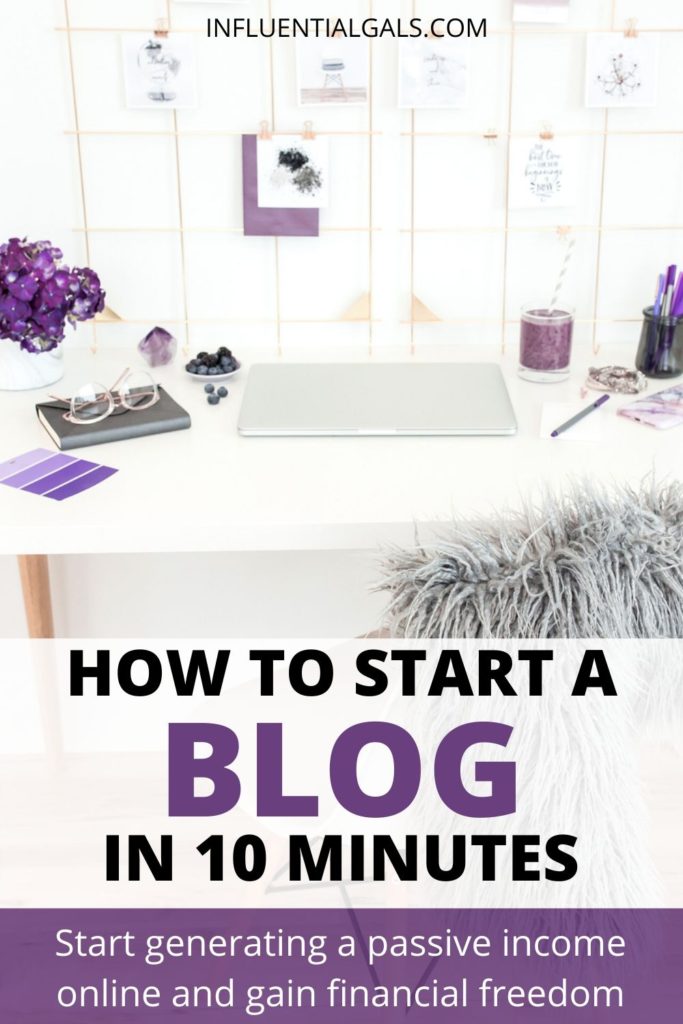 It's also important if you want to be a serious blogger and make money that you set up a self-hosted blog rather than a hosted one. This post will show you how to do that. If you want to understand the difference check out the following post: What's the Difference Between a Hosted and Self-Hosted Blog?
1. Make Sure You Choose a Lucrative Blogging Niche
Before you get started it's worth thinking about what niche you want to write about. The two niches that make the most money at the moment are personal finance and food, but if you have the right strategy you can make money in any niche! I would advise that you choose a blog topic that you are passionate about or have a specific expertise in. This is because you are more likely to blog frequently and consistently if it is on a subject that interests you. Consistency is key for ranking higher on Google, growing your traffic and building authority in your field. It's therefore really important you choose something you feel you can write about regularly.
2. Choose a Good Domain Name
Once you have decided what your blog topic is you then need to choose a domain name. Check out my 7 Tips for Choosing a Domain Name before you pick one. You should choose a name that is easy for people to remember and tells people what your site is about. Don't use hyphens, numbers, or alternative spellings and try to find a domain that ends with .com as these websites are usually easier for people to remember. Also try to keep the name under 15 characters and if you can include keywords. This will help to improve your rankings on search engines and increase your traffic.
You can use the domain checker below to see what is currently available.
You may also want to consider buying an expired domain that already has pre-existing traffic, backlinks and domain authority. Check out my post on The Secret Power of Expired Domains to Skyrocket Your Blog Traffic.
3. Sign up with Bluehost
Bluehost is one of the most affordable companies that offers web hosting, and I believe they are one of the best! I have personally had a good experience with them and now host two WordPress blogs using their service. Bluehost is also one of the top web hosting companies in 2020!
Here is why you should choose Bluehost:
Their packages are very affordable starting at £3.19 a month
Your get a FREE domain name
They have 24-7 support via phone, email or online chat
It's very easy to use if you are a new blogger
You will be self-hosted meaning it is easier to monetise your blog
Self-hosted blogs look more professional
There are many web hosting services on the Internet but Bluehost is the best. Click here to start the process and follow my tutorial below.
Once you go to Bluehost you will see a screen like the one below.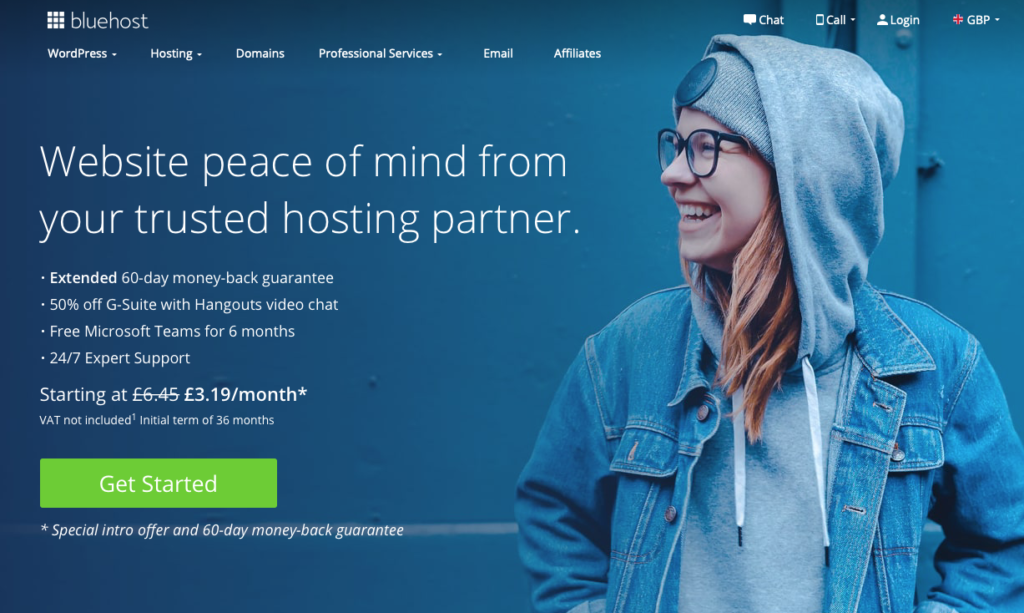 Click on the green "Get Started" button and it will take you through to the page where you choose your plan. It will look like the image below. If you are just starting out and only plan on creating one website then I recommend starting with the Basic plan. I have the Plus plan since I have more than one website but I started with the Basic plan when I set up my first blog!
You'll get your domain name FREE directly through Bluehost. Once you have selected your plan your domain will be included in your basket, and you will be taken to a page where you can choose your domain name. If you haven't quite decided yet that's fine! You can come back to this later on by clicking the link "I'll create my domain later".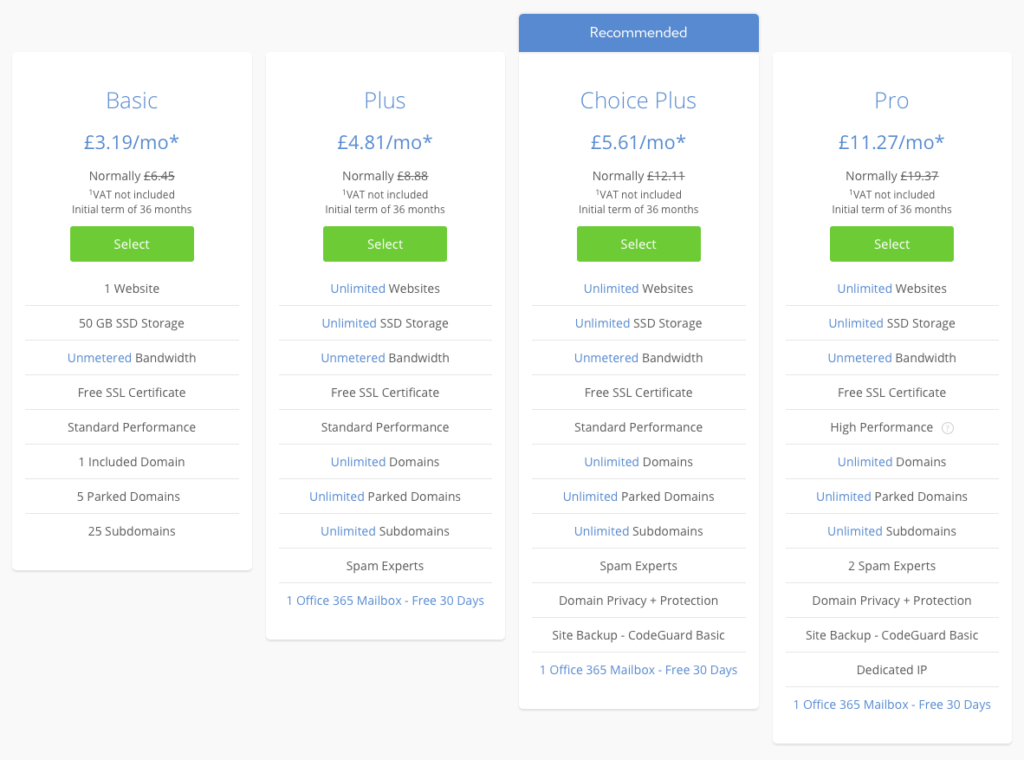 The next step is to pay for your plan. The 36 month plan is the most economical however if you have never had a blog before and you are not sure if it's for you, you can start with a 12 month or 24 month plan.
Once you have bought your package you will be asked to create a password for your account and Bluehost will ask you some questions about your goals online.
4. Set up WordPress
One of the reasons I chose Bluehost was because WordPress is automatically installed on your hosting account after you've completed the set-up! Bluehost makes it very easy to create a WordPress blog as everything is already done for you!
When you login for the first time, you will be asked if you want to setup a new website. Select WordPress and then create your WordPress login details. Bluehost will guide you through exactly what you need to do.
Bluehost firstly asks you to pick a theme. You can just pick a random one at this stage as you can change this later on. If you prefer just scroll to the bottom and click "skip this step". There are many free themes but I will show you in the next stage how to find the perfect theme for your blog.
Bluehost will then take you to a page where you should click on "start building". You can then choose whether your website will be "business" or "personal" or you can click "I don't need help".
You are now ready to start designing your website!
5. Find the Perfect Theme
When you signed up with Bluehost it would have given you the option to choose a free theme. I picked any theme as I already knew I wanted to use a paid theme but you can change your theme at any time by clicking on "Appearance" and "Themes" in the side menu of WordPress.
It is possible to use a free theme for your blog but both my current blogs have paid themes, and if you want your blog to look more professional I would recommend going with a paid theme. This blog uses the Amelia theme from 17th Avenue Designs. I find their themes easy to use and set up, and they have some great designs. I would highly recommend 17th Avenue as a company as they have good customer service and their themes are simple to use for beginners. To save you the time of browsing through them all I have posted below two of my personal favourites, the Mia theme and the Charlotte theme. You can also check out my post Find the Perfect Theme for your WordPress Blog.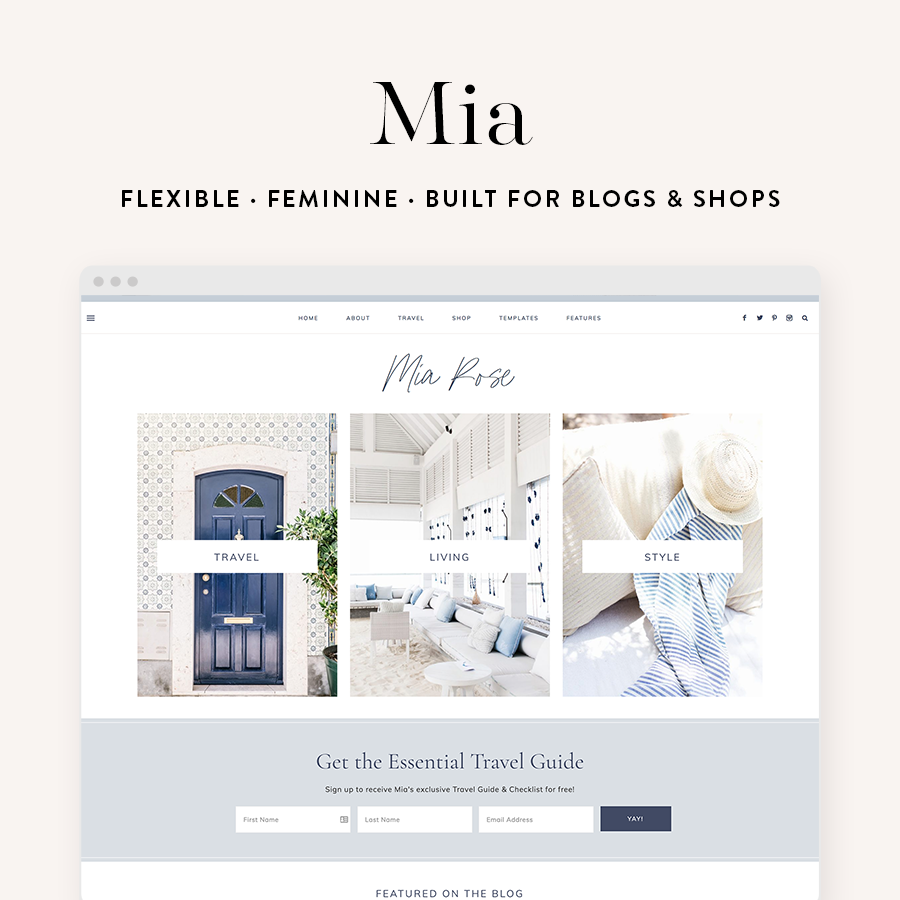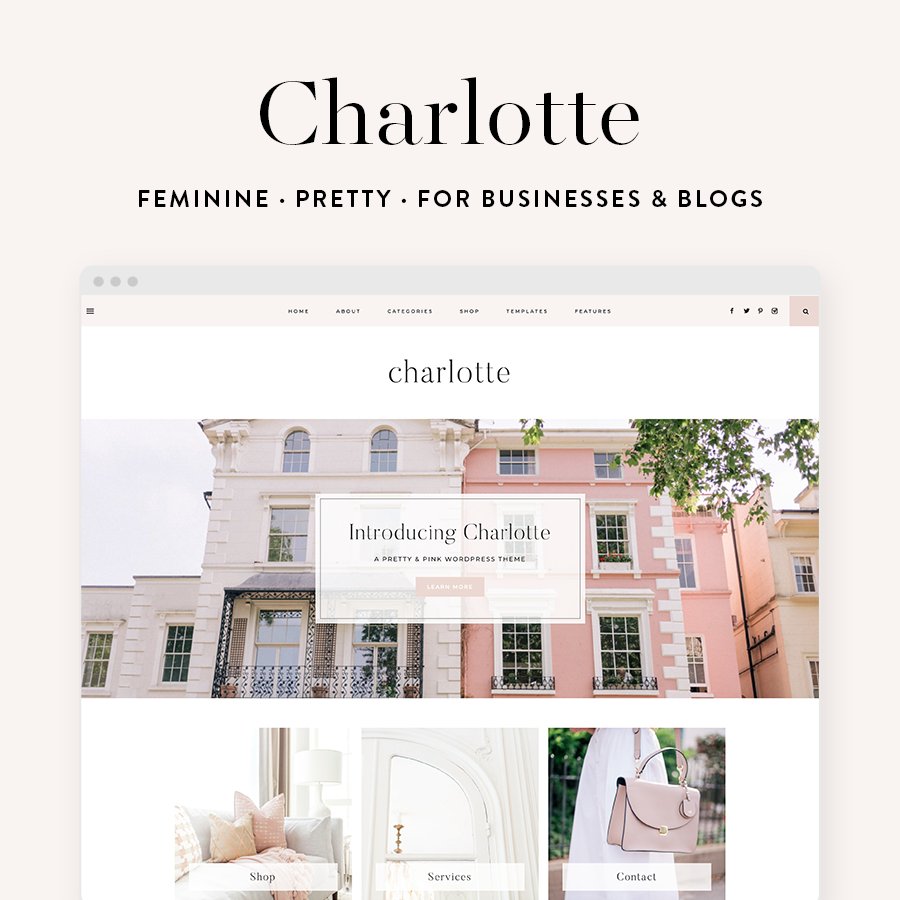 If you don't want to go with 17 Avenue Designs, StudioPress is another good option. They have designed some of the best known and most used WordPress themes on the web. My personal favourites are:
---
Here are some more blogging-related posts you may find useful once you have set your blog up!
6. FAQs
How do you start a blog for free?
It is possible to start a free blog with either WordPress.com or Blogger.com however if you are serious about blogging I would recommend started a self hosted blog. You have more control and it is easier to monetise your site.
How do bloggers get paid?
Most commonly bloggers get paid for placing advertising on their site. They also make money through affiliate marketing, sponsored posts and by selling their own products.
Do bloggers make money?
The most successful blogs such as the Huffington Post, Mozzarellas and Mashable are making millions every month. If you are prepared to work hard then it is possible to make money from your blog.
Is starting a blog worth it?