Pinterest is my number one traffic source and the perfect marketing tool for bloggers who are just starting out. For those of you who don't know what Pinterest is, it's a visual search engine. Every month it's used by 335 million people and gets more than 2 billion searches (according to Hootsuite). That's a lot of traffic that you could be getting to your blog! Unlike Google, which can take up to six months to start generating traffic, with Pinterest you start seeing results over night!
I am going to let you in on my 7 secrets for getting over 1 million impressions on my Pinterest pins in the last 30 days! The more impressions your get, the more traffic ends up on your blog! Using my techniques you will start seeing your pins not only getting more impressions but also more saves and more clicks. When this happens Pinterest starts to recognise your pins as being popular and they will begin appearing in more search results! When this happens your traffic will begin to snowball! This is what happened to me! I have included images below of some of my own pins which have had tens of thousands of views and hundreds of pins, re-pins and clicks to prove to you that these strategies work! They can be used by all bloggers in any niche and are proven to drive traffic to your blog in only a few weeks!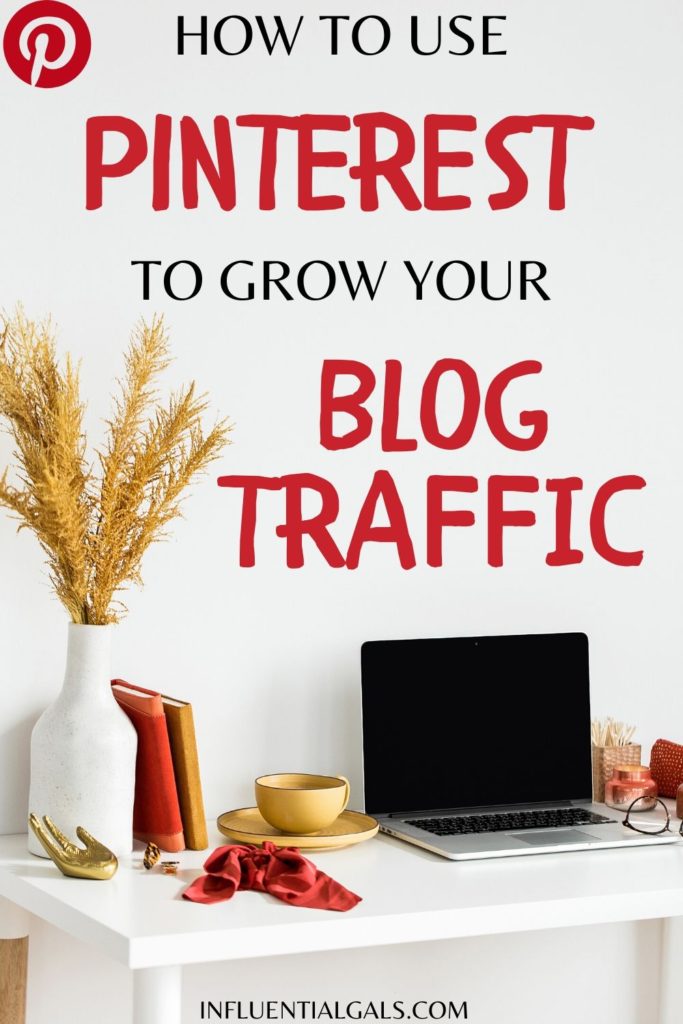 My Blog got Over 10,000 Page Views From Pinterest in the Last 4 Months
You can see from my Pinterest account in the last 30 days my pins have had over 1 million impressions on Pinterest and I've had over 7,000 link clicks to all of my pins (including the pins I have posted from other bloggers).

The screenshot below is taken from my Google Analytics account and shows that Pinterest (referral and social) traffic has given my blog almost 12,000 views since I set it up 4 months ago. It is by far my biggest traffic source.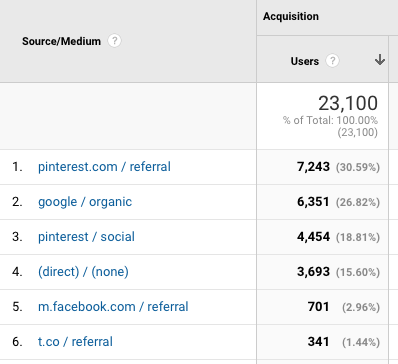 Here are my top 7 tips and tricks to grow your blog traffic with Pinterest.
1. Use a Scheduling Tool to Pin at Optimal Times
My first advice to you would be to use a scheduling tool. This will ensure your pins are pinned at optimal times. I believe this is one of the biggest reasons my blog traffic has grown so fast. The scheduling tool that I use automatically publishes my Pins at times when my audience is most likely to see them! You can see from my Google Analytics screenshot below that my traffic started to grow at around the time when I started pinning at optimal times on Pinterest.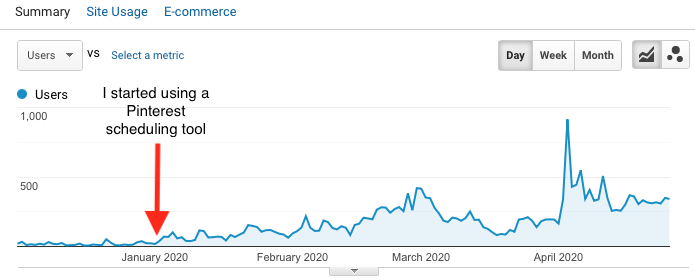 The tool I use gives you recommended times to publish when pinners are most engaged. It also automatically optimises your schedule over time to maximise your reach. As well as this there is a smartloop feature so your best and seasonal content gets re-pinned automatically at the best times. It means you don't have to remember to re-pin your content later in the year. You can also add all your Christmas pins for example to a Christmas smartloop and it will automatically start pinning them again at the right times as it gets closer to Christmas. The tool I use is also a partner of Pinterest so they do not allow you to pin too often and keep within the Pinterest guidelines on spam.
2. Join Tribes to Promote your Pins
The best feature of the scheduling tool I use it something called Tribes. I believe that Tribes have taken over the old Pinterest group boards (which I still use but seem to be less effective). Tribes are groups of other bloggers in the same niche as you. You all share your pins to the tribe and then pin each others' pins to your Pinterest boards. This means your pins are being pinned and viewed by people who are mostly likely to be interested in them. It also means you can quickly find fresh, quality content from consistent pinners.
The tool I use is called Tailwind and if you want to try it out they offer a FREE month trial (no credit card required) where you can schedule up to 100 pins. They also let you join some tribes for free!
You can see that since I joined Tribes 4 months ago I've had a reach of over 30 million.

Although you can try Tailwind for free I ended up paying for the yearly subscription after only a few days as I wanted to share all of my pins and join unlimited tribes. It's also so much easier to just schedule all your content and then forget about it. The yearly subscription is much better value than the monthly one and if you want to make a living with a blog, Tailwind is worth the investment in my opinion.
3. Create New Pins Consistently
Pin fresh content to your boards every single day. I use Canva to create multiple pins and then schedule them every hour for the next two weeks. Pinterest loves fresh content so if you want to grow you Pinterest following this is the best advice I can give you. You should also note that since Pinterest likes new images it is not a good idea to use free stock images on your pins. These images are already all over Pinterest since many bloggers are using free images. It is worth investing in Canva Pro or companies such as Hautestock as there will be fewer paid images on Pinterest. If you are a good photographer you could also take your own pictures.
4. Monitor Pinterest Trends
Make sure you monitor Pinterest search trends to keep on top of what people are searching for on Pinterest. This will give you ideas on what to write blog posts about as well as when is the good time to promote old content. You can see from the image below what is trending on Pinterest today. I have a post on my beauty website about having a spa day at home so this would be a good time for me to post some new pins promoting that page. You can see from the image below there has been a surge in the number of searches related to having a spa day at home.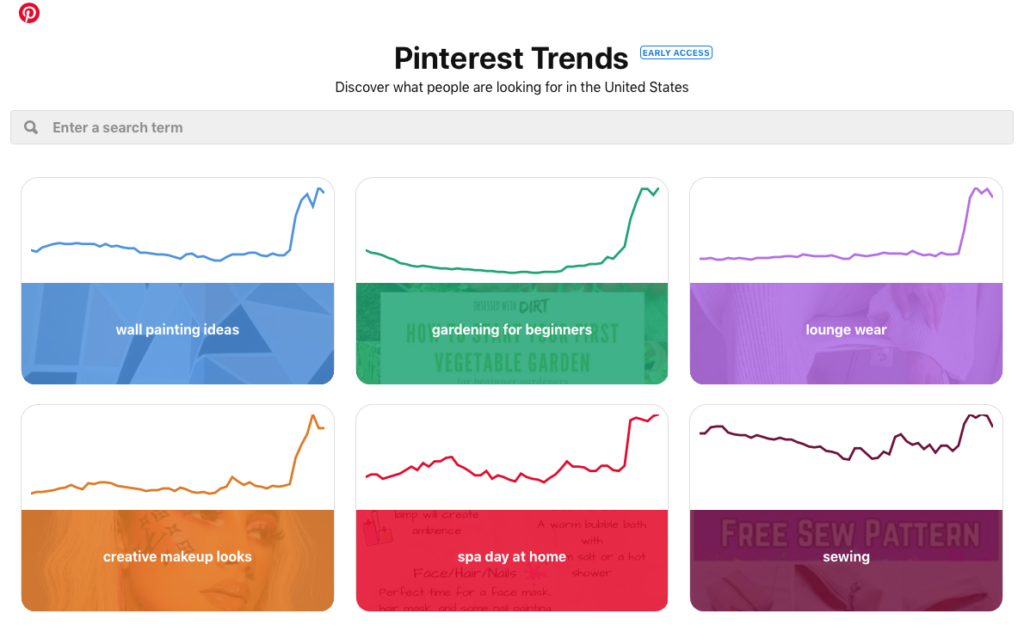 5. Use Pinterest SEO in your Pin Descriptions
To ensure your pins get the maximum exposure it is important that you use the right keywords in the descriptions. There are two ways of finding the top keywords for your topic. The first is through the Pinterest search bar. If you search for something on Pinterest it automatically comes up with all the most common searches related to your search. For example if we search for "blogging" you can see from the image below that the most common search related to blogging is "blogging for beginners" (circled in red). You can use these words that appear along the top of the search results when writing the description for your pin. These are the words that people are most commonly searching for and it's important if you want your pin to be seen, to include them in your pin description.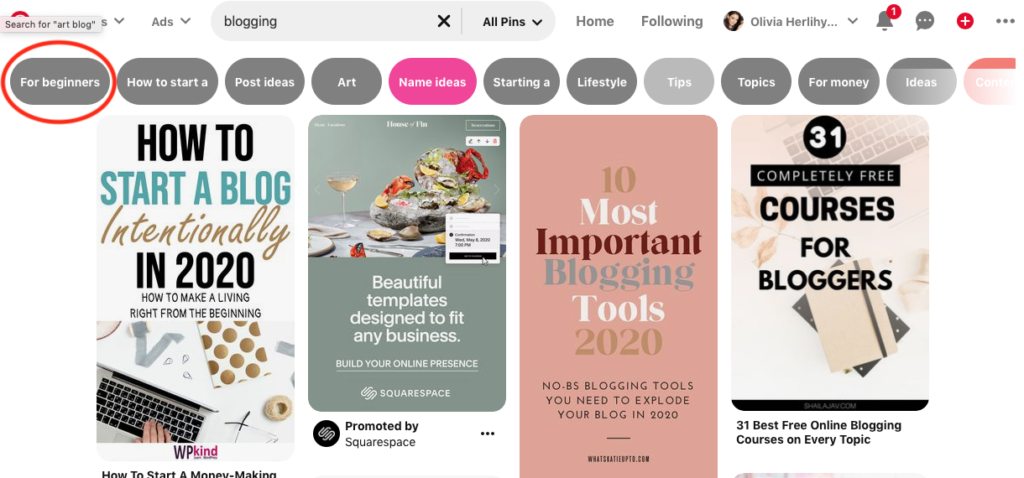 The second tool for finding keywords is through Pinterest's keyword tool found when you create an advert. If you click on Ads in the top left and then Create Ad it will take you through to a page called Create Campaign. On that page you will find a keyword tool that looks like the one below. If you type in your topic it will show you all the most commonly searched for phrases or words. For example if we type in "blogging", you can see from the image below it will come up with all the most common keywords related to blogging that get over 5 million monthly searches. You should use these keywords when writing your pin description to make sure your pin appears in as many search results as possible.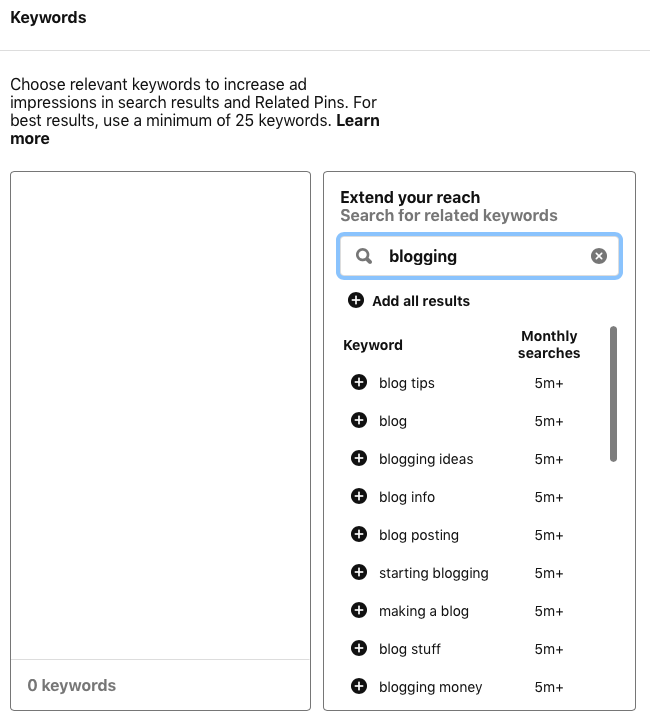 Using this technique of adding keywords to my pin descriptions I have managed to get thousands of impressions on my pins. You can see below my three pins which have got the most impressions on Pinterest.
Pins with the Highest Impressions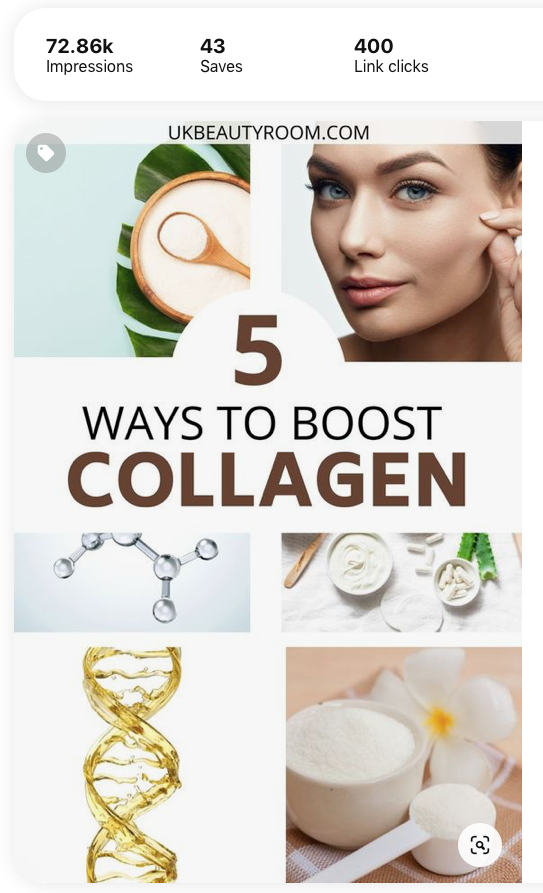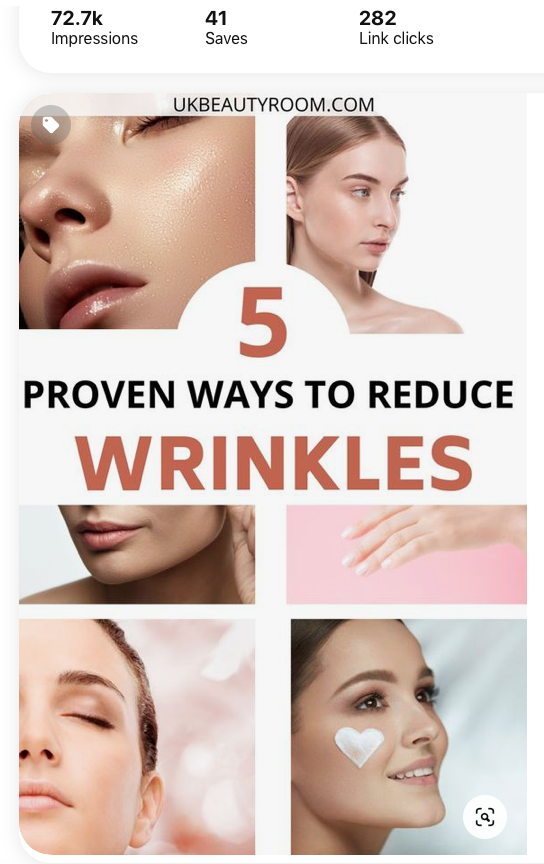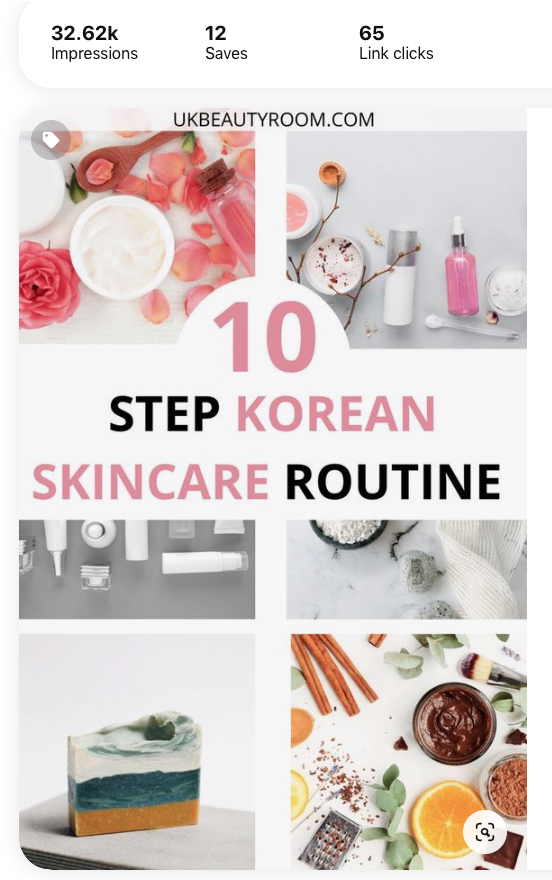 6. Have Rich Pins Enabled
If you haven't already done this I recommend you enable rich pins ASAP as these pins rank higher in Pinterest search results. Rich Pins are connected to your blog and add more content from your site under the image such as the heading and description. I enabled rich Pins on my account by using the plugin Yoast. Once you have installed Yoast if you click on SEO, social and Pinterest you will be able to add the tracking code to link your account. You can then validate your site with Pinterest's rich pin validator. Once Pinterest approves your site you will start seeing additional content under your pins. Enabling rich pins is essential if you want to get traffic from Pinterest. Rich pins show up more frequently in search results as they are seen as having higher authority.
7. The Formula for Creating the Perfect Pin
A company called Curalate that helps bloggers post better images to Pinterest examined over 500,000 images on Pinterest looking at 30 different characteristics like the colour, subject, texture. Their research was featured on Wired and revealed the perfect Pinterest picture which was pinned 307,000 times (shown below). They discovered that the best Pinterest pins were all portrait style and had:
No humans faces
Little background
Multiple colours
Lots of red
Moderate light and colour
Click on the image below to see the full report.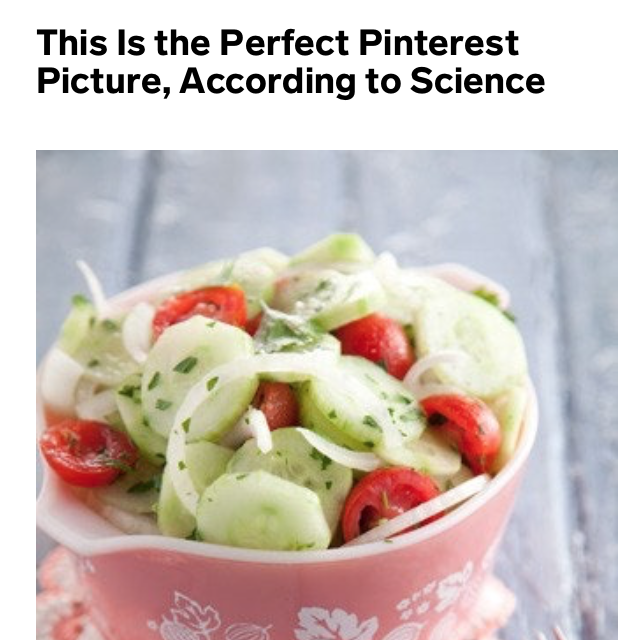 SUMMARY
This is my quick summary on how to get traffic from Pinterest
Join Tailwind

for FREE (no credit card required) and start scheduling your Pins at Optimal times

Join tribes

to connect with others in the same niche and promote each others' content

Create and pin fresh content

using paid images which are less common on Pinterest
Monitor Pinterest trends to see what people are searching for
Use keywords in your pin and board descriptions
Enable rich pins
Create portrait pins with lots of colours, little background, no faces & the colour red!
Pinterest FAQs
How do I get more traffic to my Pinterest?
Pin consistently, use relevant keywords, and ensure your pins link to high quality content.
How long does it take to get traffic from Pinterest?
I have seen pins get traffic to my website in as little as 1-2 days. Typically it usually takes 2-3 weeks to start getting significant traffic from a pin. Pinterest can continue sending traffic to your blog for years just from one pin.
How do I drive traffic to my blog?
Write blog posts constantly, create post titles that are more likely to engage people, and use good pictures, keywords, and social sharing buttons on your site. After every blog post create several Pinterest pins and share them to your Tailwind tribes.
What are rich pins?
Rich Pins are a Pin format that shows extra information on the Pin. You can identify Rich Pins by the additional information above and below the image on closeup, and the bold title in the grid.
---
If you haven't already started a blog and are thinking about it, I have created a step-by-step guide on How to Start Blogging for only £3.19 per month. For this low cost you not only receive web hosting but they also throw in a domain for free if you sign up through my Bluehost link! You may also find the following posts helpful.