Rose essential oil has many benefits. It is one of the most popular and well-known oils in aromatherapy, and has a sweet, floral scent. One of its most popular uses is for its beauty and health benefits as it can heal skin issues such as acne, eczema and psoriasis. It can also been used for its calming effect to helps soothe irritability, depression and anxiety as well as promote sleep. In this post you will learn all the benefits of rose essential oil as well as how you can start using it yourself!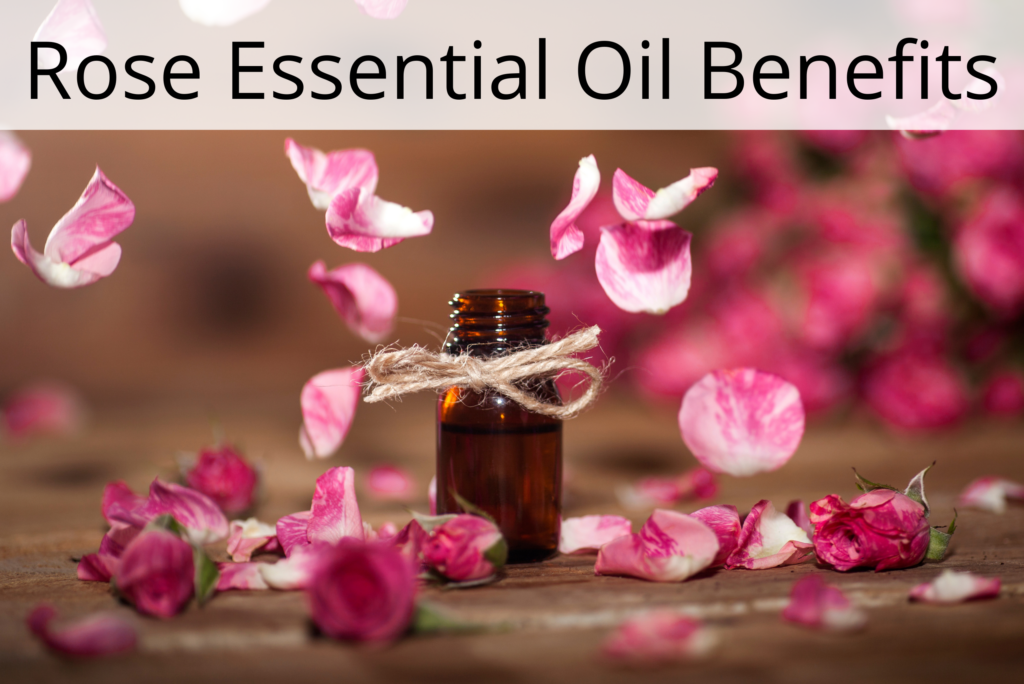 Rose essential oil has been used for centuries in many different cultures and religions. It can be found in the Bible, where it was anointed on Jesus before his crucifixion, and in ancient Greece, rose petals were often placed under the pillow of newlyweds to assure a happy marriage.
Rose has also been used for centuries in the Middle East and Europe to help beautify skin, hair, and nails.
This post is all about rose essential oil benefits
Rose Essential Oil Benefits
---
Disclosure: This post may contain affiliate links meaning I get a commission if you make a purchase through my links (at no extra cost to you). For more information please read my disclosure.
Gya Labs Rose Geranium Essential Oil for Skin -...
TIMELESS PERFECTION IN EVERY DROP. Gya Labs Rose Geranium Oil For Skin rewinds age with juicy moisture...
UNWIND WITH A HEAVENLY, FLORAL SCENT. Rose geranium essential oil for diffuser emits a sweet, uplifting...
A ROSY ADDITION TO DIY RECIPES. Add essential oils rose geranium to DIY crafts; such as clothing spritz,...
A PERFECT BLEND WITH FLORAL OILS. Bring out the best of rose geranium essential oil organic when you pair...
TESTED FOR SAFETY AND QUALITY. Gya Labs' Rose Geranium Oil is with steam distilled flowers from South...
How to Use Rose Essential Oil
Rose essential oil can be added to homemade candles or used in a diffuser or oil burner. It is also perfect in beauty treatments for the skin and hair, but since it is so potent it should always be mixed with a carrier oil first. When choosing a carrier oil Rosehip seed oil and apricot kernel oil are two common choices because they're both high in linoleic acid, an omega-6 fatty acid that soothes inflammation and helps promote healing.
Rose essential oil is a popular choice for many people in the aromatherapy community, and is often used to help with anxiety, depression, and other mood-related conditions. If you want to use rose for aromatherapy it blends well with lavender, peppermint, clove bud, and eucalyptus. Together these oils have a calming effect on the mind and help to clear out negative thoughts.
Lavender is often used in aromatherapy because it has a balancing effect on the body and emotions. Peppermint essential oil can invigorate your senses by clearing your head of foggy thoughts and creating clarity of thought. Cloves are warming which helps to soothe away any aches or pains you may be experiencing from stress or illness while eucalyptus works wonders for respiratory issues such as coughs, colds, congestion etc.
Benefits & Uses of Rose Essential Oil
1. Rose essential oil is a natural remedy for stress
Rose essential oil is a natural remedy for stress. It has been used for centuries for its calming, soothing and sedative properties. Rose is a natural antidepressant that can help you feel happier, calmer and more grounded by stimulating the production of serotonin in your brain. It also relieves stress, anxiety and depression naturally without any side effects like prescription medications do.
The benefits of rose essential oil are amplified when it is combined with other oils that have similar properties such as lavender or geranium. These precious oils can be added to bath water, diffused in the air or applied directly on your skin.
Since this oil is known to effect the limbic system you can use it in aromatherapy to help reduce your heart rate and systolic blood pressure. The strong aroma is believed to reduce feelings of stress when added to room sprays.
2. The scent of rose can help you sleep better
It's no secret that scents can help one relax and sleep better which is why they're often used as aromatherapy in spas and salons. Most of us have heard the benefits that lavender can provide for sleep, but did you know rose has similar properties? Rose is also a natural and more sustainable alternative to synthetic products. Adding rose essential oil to your diffuser can help promote better sleep quality.
3. Rose essential oil has been used to help with skin conditions, including acne and eczema
Rose essential oil is a natural remedy for skin conditions, including acne. It works to maintain and balance the pH levels on your skin while also providing anti-inflammatory properties that can help with many skin problems such as eczema, psoriasis, and dermatitis.
Rose oil contains compounds called terpenes and phenolic acids which provide antibacterial and anti-inflammatory properties as well as antioxidants that fight cell damage caused by free radicals. Rose can also stimulate the production of collagen, an important protein in skin health. One study found using rose on the face reduced acne up to 50% after 12 weeks. The research suggests it may be helpful for milder cases of acne due to its ability to reduce inflammation without harsh chemicals or antibiotics.
I recommend you use rose oil if you have sensitive skin and want to improve skin tone. You can add a few drops to your skin care products to dilute the oil for topical use. The antibacterial properties will help to reduce redness or infection. It also works well in a massage oil mixed with almond oil.
4. Use it in your bath or add it to your moisturizer
Rose essential oil can be added to your bath water for a relaxing soak or mixed with moisturizer before bedtime. Rose oil helps reduce the appearance of scars and stretch marks, soothe tired muscles, and alleviate acne breakouts.
If you have dry skin rose can help to increase your hydration levels. A few drops of essential oil in your bath water or beauty products can help to reduce the visible signs of ageing, as well as moisturise mature skin.
5. Add a few drops into your shampoo or conditioner for an extra boost of hydration
Rose oil has been shown to have many benefits for the hair and scalp such as boosting hydration levels, and improving circulation to the hair follicles. If you want some extra moisture then try adding a few drops of rose oil to your shampoo or conditioner. It'll give you soft locks without weighing down your hair like some other oils do. Rose is also thought to help stimulate hair growth.
6. Mix rose essential oil with coconut oil and apply as a facial mask
Mixing rose essential oil with coconut oil is a great way to make your own facial mask. Rose essential oil has many benefits, including its ability to help protect the skin from free radicals and reduce inflammation. You can also add honey or other ingredients if you like!
To make the mask mix 2 tablespoons of coconut oil with 1 tablespoon of rose essential oil in a small bowl or cup then apply it to your face like any other face mask would be applied.
7. Add rose oil to your diffuser to create a beautiful fragrance in your home
The scent of rose oil is a popular choice for people who want to create an inviting and romantic atmosphere in their homes. Rose oil can be added to your diffuser or even used as a room spray. The floral aroma of rose is believed to help clear the air in your home, which in turn could help with any health issues connected to the respiratory system.
What is the difference between Rose Essential Oil and Rose Absolute?
Rose essential oil requires 3kg of rose petals to create just 1ml (20 drops) of oil, but since Rose Absolute is made with the use of chemical solvents, fewer roses are needed for the same amount of rose oil.
Rose Absolute is an aromatic oil which comes from the fresh petals of the damask rose. It is a concentrated golden oil which exudes a strong, intensely fragrant Rose odour.
Rose Damask Absolute Oil Dilution - 10ml - 3%...
Rose Damask Absolute Oil Dilution 10ml
Botanical Name: Rosa damascena
Precious oil dilutions invite you to experience the luxurious qualities of precious oils blended with the...
Ingredients: Rose Damask Absolute Oil (Rosa damascena), Jojoba Oil ( Simmondsia chinensis)
What Other Types of Rose Oil are Available?
Other than Rose Absolute you can get rose otto essential oil, bulgarian rose oil and cabbage rose. They all product a fragrant aroma and have antiseptic properties. They are popular oils which are used to treat sexual dysfunction, skin diseases, major depressive disorder, and menstrual pain. They can also all be added to skincare products to enhance physical beauty.
This post was all about rose essential oil benefits
Thanks for reading my post on rose essential oil. If you have tried this essential oil please leave me a comment below and let me know how you got on! I love this oil as it has so many health benefits!
Related: Everything You Need to Know About the Beauty Industry's Most Precious Ingredient—Bulgarian Rose Oil