Are you looking for ways you can earn extra money every month? These lucrative side hustles could help you bring in $1,000+ on top of your regular salary!
Here are my 19 favourite side hustle ideas to make money in 2021!
This post contains affiliate links. This means I might receive a commission if you buy anything using one of my links. For more information, see my disclosures here.
1. Start a Blog
This is my favourite side hustle idea as if you work at a blog persistently it can eventually generate a passive income. I've had my blog first blog since November 2019 and it started earning money for me after only two months. If you don't already have your own blog I've written a simple guide on How to Start a Blog. I regularly publish content on how to monetise a blog with advertising, affiliate marketing and creating your own digital products. Be sure to subscribe to my mailing list to get regular blogging tips.
You can use the tool below to check what domain names are available for your blog! For advice on choosing a web address check out my 7 Tips for Choosing a Domain Name
2. Create an Online Course
If you have expertise in a certain area then you can create your own online course which you can sell on your blog. Nearly all Bloggers who are generating a six figure salary get most of their income from their own products. Although affiliate marketing and advertising can bring in a fair bit of money, the high earning bloggers are making most of their cash from digital downloads. The product I will be selling on my website is an online course helping women start a profitable business online. I have created a blueprint for others to replicate my own success. The programme I am using to create my course is called Podia.
Podia is absolutely brilliant for creating an online course as you are able to upload unlimited files (including videos), offer payment plans to your students and use quizzes and drip content. It is also very user friendly and you don't need any technical knowledge or experience at all.
As well as creating and selling an online course Podia also allows you to sell digital downloads of any kind, including eBooks, audio books, PDF's, cheat sheets, checklists, video files, audio files and text. You can also host webinars or create an online shop.
If you want to try out Podia you can get it FREE for 14 days with no credit card required!
GET MY 14 DAY FREE TRIAL OF PODIA

3. Sell Services on Fiverr
On Fiverr you can sell services such as providing voice overs, designing logos, writing blog posts and articles, or if you speak another language providing translation. There are over 250 categories of services that you can provide via Fiverr and you can decide the rate you want to charge.
4. Be a Tour Guide in Your Local Area
If you know your local area well you can become a guide for tourists. There's a website called showaround.com where you can sign up as a local tour guide (you don't need to be a professional – anyone can do it). You decide on your hourly rate and then show visitors around your city. Your guests will be able to rate and review you on the website and as you get more reviews your rankings will go up in the search. The higher you are ranked the more offers you will get and the more money you'll make!
The other way of offering tours is through Airbnb where you can host an experience for people who are coming to your city. If you go to Airbnb Experiences you can offer an experience to show people around the local sites.
5. Get Paid to Walk Other People's Dogs
If you like dogs you can get paid for taking other people's dogs for walks. There are two different websites where you can sign up for this service. The first is Rover.com. You sign up and create a profile and then specify the types of dogs you want to care for and the dates that work for you. Your payment will be ready for withdrawal two days after you provide the service. There is also the option to look after a dog or cat overnight.
The second website is Wagwalking.com which is similar to Rover. You sign up with their website and specify whether you are able to provide dog walking services, overnight sitting and boarding, or training needs. During the application process you will need to demonstrate your understanding of dog safety, collars/harnesses, and how to handle various situations when caring for dogs.
6. Become a Virtual Assistant
Register on Upwork as a Virtual Assistant. You can get paid to help people virtually with their social media accounts or setting up calendars, ghost writing or administrative work. You can decide your hourly rate. If you head over to upwork.com you can see that other Virtual Assistants have earned over $500,000 since they signed up. As well as being a Virtual Assistant you can also sign up to do graphic design, book keeping or research for people.
7. Earn Money Doing Chores and Odd Jobs
If you are good at handyman work, moving heavy items, lifting, cleaning or furniture assembly then there's a website called taskrabbit.com where you can look for people to help complete odd jobs. If you are good at jobs such as this then it can earn you quite a bit of extra money every month.
When you sign up Task Rabbit notifies you of jobs nearby. Choose the one you want to complete and confirm the details with the client. Then once you have completed the work you submit your invoice.
8. Get Paid to Deliver Food
If you have a bike or car you can deliver food to people with either DoorDash or UberEats. Once you sign up via the website you will have an hour training via Zoom and then you can earn money picking up food from restaurants and delivering it to people's homes. You get to choose your hours so this is a great job you can do after work or at weekends.
9. Make Videos for YouTube
If you can talk about something you are passionate about, or have an area of expertise you can teach others it might be worth making some videos. If your videos do well you can earn a decent amount of money through YouTube. First you need to start a YouTube channel. There's a handy guide here on how to create a channel. Once you've done that set up an AdSense account so you can receive money through advertising. It can end up becoming a very lucrative way of generating extra money every month
10. Buy and Sell items Online
Before starting my business as a Digital Content Creator, I set up several other businesses. My first was buying and selling mini laptops online. I used to order them from AliExpress for $100 each and then sell them on EBay for £100. It was a lot of work but I made quite a bit of money. You also don't even need to post the items yourself. Once you've placed the orders through AliExpress every time you receive an order through EBay you can just ask the seller on AliExpress to send the item directly to the customer. At the time I was receiving about £17 for each laptop I sold.
There are other platforms you can use to sell products online other than EBay such as Facebook Marketplace or Craigslist
11. Design and Sell T-Shirts Online
There's a website called Spreadshirt.com where you can create a logo design for a t-shirt or hoodie and sell it.

The website allows you to create your design through their platform. You can then put the design onto t-shirts, mugs, hats, phone or tablet cases and other items. Once you've done this you can open your own t-shirt store through the site and sell your products. You will receive a commission for every item that is purchased. Spreadshirt will make and print all the t-shirts and other items so you don't need to do anything apart from the design!
12. Drive for Uber or Lyft
If you have a car you can register as a driver with either Uber or Lyft. You choose your own hours so this is a job you can do in the evenings or weekends and is a great way to earn extra money every month. Customers can leave you tips via the app and with both Uber and Lyft you keep 100% of your tips. You also earn an increased rate during peak hours.
13. Answer Questions on JustAnswer
Websites like JustAnswer pay you to answer professional questions. If you have a skill such as experience in law, medicine or information technology, you could get paid to help others. Once you have signed up you choose your working hours. All you need is a computer and an internet connection. Some of the top experts earn £1,000s each month helping customers solve every day issues.
14. Write an eBook to sell on Kindle
If you are good at writing and you have the time to write a book, selling your book on Kindle might make you a bit of money. Today authors don't need to find a publishing company. Anyone can upload a book onto Kindle and start selling it straight away on the Amazon store. Not only that but Amazon will do all the promotion and marketing for you. If your book does well it can start appearing in search feeds. I published three short specialised books on Amazon Kindle years ago and made a small amount of money from them. If your book does well it could end up generating a passive income for you in the long run. The best thing about using Amazon is that it's free – Amazon takes commission from your sales but will not charge you for publishing your book.
15. Design Logos and Sell Them
If you are good at graphic design there is a website called 99Designs where you can design logos for clients. You choose the industry, style and design category you want to work in and 99Designs matches you with clients. It's free to sign up and you get paid in three business days after you have created the design for the client. You can also choose how often you want to work.
16. Start an Etsy shop
If you make products such as greetings cards, bags or knitted items you can set up your own shop on Etsy. On this platform people are selling hand knitted items, portraits, keyrings and pins, and other crafts. As a nurse I ordered my badge holder from Etsy as I wanted a specific one for a Recovery Nurse. You can find all sorts of interesting shops that are specific to certain industries. It's easy to set up your own store, just create an account and choose your shop name. Then all you need to do is add your items to sell and choose your payment preference.
17. If You Own a Car You Can Rent it Out
If you own a car you can earn extra money every month by renting it out on turo.com. You can list your car for free which takes about 10 minutes. There is no sign up charges or monthly fees. You then set your daily price rate and advertise when your car will be available. When a customer books your car you confirm where and how to hand over the keys. You will be paid via PayPal within three days after each trip. You earn 75% of the price of the trip unless you waive Truro protection and use your own commercial rental insurance.
18. Rent out a Spare Room on AirBNB
If you have a spare room you earn extra money every month by renting it out on AirBNB. Once you have listed your room you can choose your schedule, price and requirements for guests. AirBNB also covers every booking with property damage protection and insurance against accidents.
In the UK you can earn £7,500 tax free each year from renting a spare room in your home (if it is your main residence) under the Government's Rent a Room Scheme. The scheme applies if you have short term guests staying in your home in a furnished room.
19. Become a Worker on Amazon Mechanical Turk
Companies use Amazon Mechanical Turk to find workers who can do a variety of different jobs that computers are unable to do. These may include identifying duplicate data entries or verifying item details. They also require people to fill out market research or transcribe audio content. There are thousands of available tasks and it is easy to find something that suites your skills and interests. Some of the common tasks requested are: identify objects in a photo or video, perform data de-duplication, transcribe audio recordings or research data details.
---
Thanks for reading my 19 side hustle ideas to earn extra money every month! I will be updating this page every time I find a new method to make extra cash, so be sure to bookmark this page and check it regularly! Also subscribe to my newsletter to receive regular tips on how to make extra money or grow your online business!
Did you find my post helpful? Please save this pin to your finance board on Pinterest and leave me a comment below!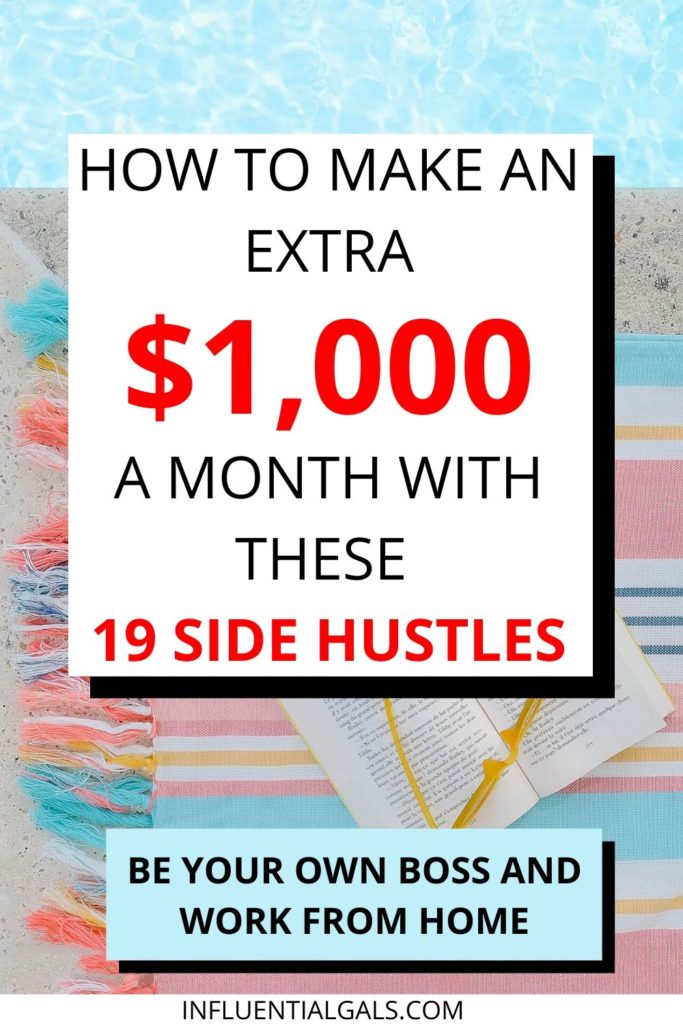 Side Hustle FAQs
What is Your Side Hustle?
A side hustle is a flexible second job that you can work around your normal day job, such as teaching music lessons, translating or offering driving lessons.
Is a Side Hustle Worth it?
If you find something you are passionate about and this can earn you extra money then yes it's definitely worth it. I have a side hustle as a Digital Content Creator which I love, so the fact it's also earning me money is a bonus!
What are Some Side Hustle Ideas?
Start a blog, create an online course, become a virtual assistant or if you are a doctor, lawyer or have a special skill you can answer questions on JustAnswer.
How do I Make an Extra $1000 a Month?
All of the 19 side hustle ideas I've mentioned here could potentially earn you an extra $1,000 a month. My favourite ways are either with a blog, online course or ebook since in the long term this can lead to a passive income. Check out my guide on how to start a blog.