I've tried out many different side hustles for nurses over the years. This post lists my top recommendations for nurses to earn extra money with a side job.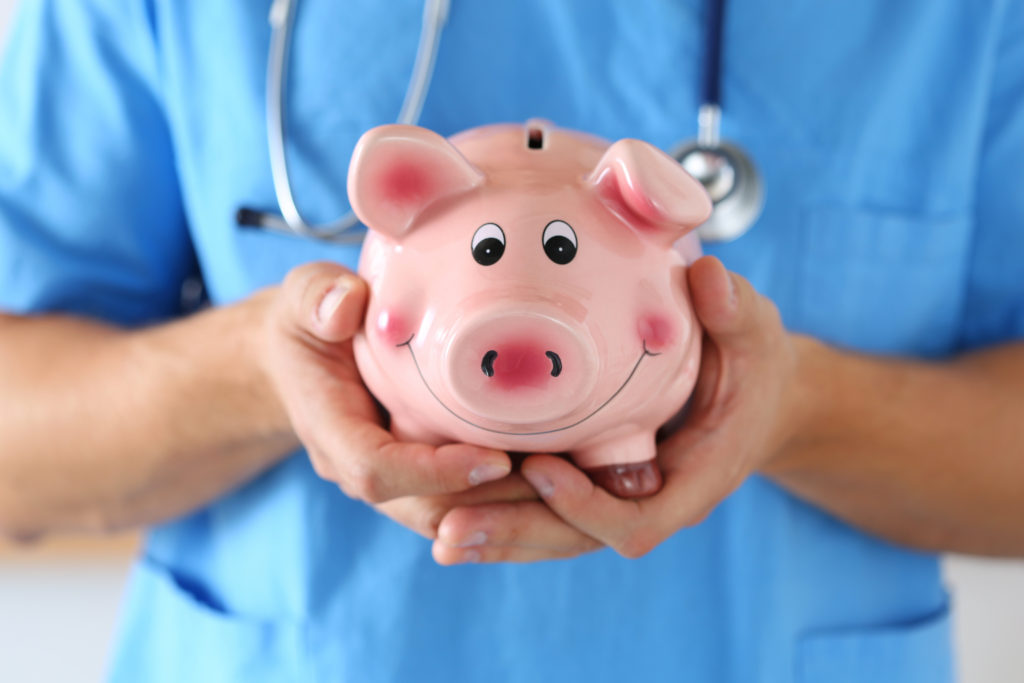 Are you a nurse looking to earn some extra cash? Having a second job is very common in the nursing profession. Many nurses work extra shifts, have a side hustle, or like myself have ventured into entrepreneurship.
This post lists 13 side hustles for nurses.
Side Hustles for Nurses
Disclosure: This post may contain affiliate links meaning I get a commission if you make a purchase through my links (at no extra cost to you). For more information please read my disclosure.
1. Working Agency or Bank Shifts on Your Days Off
Many nurses work extra shifts in their own hospital or through an agency. This work often pays them a higher hourly rate than their regular day job.
Working bank shifts is also a great way to earn some extra cash since you will be working in a familiar environment where you are already on the payroll!
2. Tutoring Nursing Students Online
A lot of nursing students need extra coaching for their exams. This is not only a great side hustle but you get to help someone else to start their own nursing career.
You can find nursing students through social media or by placing an advert on platforms such as Fiverr. Some of the ads below are examples of how you can advertise your service on Fiverr.
3. Working as a Nurse on a Summer Camp During the Holidays
You can apply to become a camp nurse during weekends and holidays over the summer. Most camps need a medical professional on site to provide first aid and medical advice as well as encourage staff and campers to have healthy habits (e.g. diet, hydration, sun cream etc.) This is a popular choice for RNs looking for supplemental income.
4. Running First Aid or CPR Courses for Local Companies
Register with healthcare agencies and let them know you are an independent first aid instructor. You need to have an up to date first aid and CPR certificate and register your business for tax purposes. You will also need to provide teaching materials and visual aids for teaching.
This is a great option that all medical professionals can do. The American Red Cross or American Heart Association may be a good place to start.
5. Start a Nurse Recruitment Agency
Hospitals and care homes are always looking for nurses to work extra shifts. Starting a business that introduces nurses to healthcare providers can be very profitable if you are prepared to do the legwork. It is also a business that you can do entirely online.
6. Writing Content for Nursing Publications
If you are good at writing you can become a part time medical/health writer. Register with freelance companies as a writer of medicine and healthcare. If you write high quality content you may start getting regular work. This is a good option if you are looking for how to make money as a nurse from home.
7. Working Extra Hours for an Immunisation Clinic During Flu Season
Being an immunisation nurse is a seasonal job that starts around the autumn before flu season starts. You can find extra work through nursing agencies or by contacting your local doctors office.
Often flu clinics are offered in many locations throughout the autumn and early winter and they are always looking for nurses. It's a simple way to earn some extra money just by assisting with flu shots. Any Registered Nurse can become an Immunization Nurse and earn extra working in a seasonal flu clinic.
8. Become a Part Time Weight Loss/ Nutrition Coach
Find an evening or weekend job through your local gym where you give advice on weight loss or nutrition. You can also advertise online or in local businesses that you are a nurse working as a coach to help people improve their health. If you have your own website you can start to build up your reputation by offering some free advice online.
Health coaching is a very popular way for nurses to earn more money. This option offers flexible schedules and different ways you can help people depending on their individual needs. Many people who are overweight or have a poor diet would welcome the advice of healthcare professionals on how they can live a healthier lifestyle.
9. Get an Evening Job as a Medical Transcriptionist
This involves listening to recorded medical reports and typing them up. It requires a familiarity with medical terminology. This job is very flexible and allows you to work from home in your own time. Register with an agency and if you are able to type fast you may start receiving regular jobs.
10. Become a Telehealth Nurse
This involves diagnosing and monitoring patients over the phone or via webcam. Most Telehealth companies allow their nurses to work from home. This job can be very well paid and many nurses who start working in telemedicine end up giving up their full time job altogether.
11. Sell nurse related products on Etsy
Many nurses earn extra money by selling medical products on Etsy. There are also specific nurse lanyards as well as nursing shoes available to buy from sellers on Etsy. Etsy allows you to create your own shop and sell almost anything online so it's a no brainer for earning a bit of extra cash.
12. Become a medical coder
Medical coders transform diagnoses, procedures, equipment and medical services into universal medical alphanumeric codes. These codes help insurance companies and healthcare providers to share patient information. This is a job that can be done from home and you can choose your working hours
13. Provide Medical Cover at Events
Large events are required to have medical cover on standby if anything happens. Many nurses earn extra money starting businesses which provide medical cover at weekend events. You just need to take a first aid kit and be prepared to offer medical advice and first aid as required.
14. Become a Nurse Writer
If you've got good writing skills you could become a health writer. Below are some examples of nurse writers on Fiverr. You don't need to have an advanced degree, just a good understanding of your field and good grammar. This is a good option if you don't have a lot of spare time as you can write when it suits you.
Many nurses use this option to earn extra money by writing about topics in the nursing field. It's a great side gig and can help to pay off a student loan.
15. Become a Part-Time Caregiver
Depending on whether you have a lot of time or just a day a week, you could become a part-time caregiver. This is a long term option that requires a bit more commitment than a casual nurse side hustle.
There is usually a lot of extra work in this area. Whilst you don't have to be a nurse to do this job, someone who has clinical experience is usually preferred.
16. Become a Nurse Blogger
This is my favourite option to earn extra money as a nurse! I set up my own blog to have a second income alongside my primary job. In time it provides you with a steady income which is completely passive!
If you want to start your own blog, I have created a step-by-step guide on How to Start Blogging. I've found you the cheapest option for beginners where you not only receive web hosting but they also throw in a domain for free!
Side Hustles for Nurse Entrepreneurs
Entreprenurse is perfect for Nurses who are looking to use their Nursing education and skills to start their own business.
The book contains examples from over 30 Nurses who went into careers away from traditional bedside nursing. It is an inspiring book which shows how anyone with a Nursing degree can start her own business.
The ideas in the book range from Nurses who podcast to Nurses in real estate and Nurse inventors! It goes through the pros and cons of each as well as the pay range. The book comes with a bonus chapter which includes a goal setting worksheet and income tracker.
This book demonstrates how our unique skill sets as Nurses have groomed us for financial independence in ways you may not have considered before.
The author shows how more and more nurse are becoming entrepreneurs as a natural course of their training. It is shown to be a natural progression in a Nurse's career and challenges us all to awaken to our rightful destiny among the ever growing legions of nurse entrepreneurs.
The author of Unlock is a Nurse Entrepreneur and Business Mentor who shares stories to inspire Nurses to aim for the stars and create the best, most affluent life possible.
The book is both practical and spiritual and combines modern Nursing knowledge with ancient Chinese success secrets. It is an excellent how to guide for Nurses striving for personal and professional growth.
The author shows you how to use your Nursing skills to develop a business, cultivate an entrepreneurial mind-set, adopt successful habits and inspires you to never give up!
This is an inspiring book where the author describes his journey from being a Nurse to being a Property Entrepreneur. The book is aimed mostly at Nurses living in the UK, but the strategies for success detailed in the book could be used by anyone. The book shows you that it is possible to be a Nurse and meet all your financial goals.
FAQs on Side Hustles for Nurses
What is a Good Side Job for a Nurse?
Good side jobs for nurses include: blogging, tutoring nursing students online, providing medical cover at events, becoming a medical coder, becoming a Telehealth nurse or medical transcriptionist or running first aid courses.
Can a Nurse Become a Millionaire?
Probably not from Nursing alone but a career in Nursing may open doors that allow you to create other sources of income which may lead you to becoming a millionaire.
What is the highest paid nurse?
Nurse Anaesthetists, Nurse Midwives and Nurse Researchers are the highest paid nursing specialities.
What jobs can a RN do from home?
Tutoring nursing students online, writing for nursing journals, or doing telephone triage are all jobs Nurses can do from home.
This post was about the Best Side Hustles for Nurses
Thanks for reading my post about the best side hustles for nurses. If you have any other side hustle ideas please leave me a comment below. Having a side hustle can be a great way to save up some extra money to pay off a loan, or save for a deposit on a house. It's important however to think about your work-life balance and remember to schedule in some time to relax.